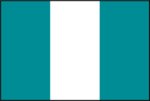 CreditRegistry, Nigeria's pioneer private credit bureau is set to transform the retail credit unit of the financial services sector, as plans have been concluded to host key stakeholders in the financial, telecom and retail service industries.
The Governor of the Central Bank of Nigeria, Professor Chukwuma Soludo, the Minister of Finance, Shamsudeen Usman and other dignitaries are scheduled to grace this event. Also in attendance will be seasoned banker and CreditRegistry chairman, Fola Adeola, and director, Atedo Peterside.
Fundamental issues threatening Nigeria's emerging retail credit industry in the form of identity theft fraud, skipping of loan repayment and slow credit access, will also be addressed during the course of the event.
The event which has been scheduled to hold on Thursday, May 15, 2008 and strictly by invitation, will provide attendees the opportunity to witness how CreditRegistry's modern and innovative credit bureau services can open up new areas of significant revenue for financial institutions, service providers and retailers.
Speaking on the forthcoming event, Taiwo Ayedun, Managing Director of the company said: "Amongst other things, our mission is to stimulate economic expansion and wealth creation in Nigeria by promoting social accountability mechanisms that will enable faster building of trust between parties in economic transactions."
CreditRegistry has been in existence for over six years in Nigeria, has a database of over 1 million items of borrower information, and has been working closely with most of the leading banks in the country.
CreditRegistry is also the first and only credit bureau in the world to incorporate biometrics into a modern credit bureau system, thus addressing the issue of identity fraud. With this event, CreditRegistry plans not just to showcase its offerings, but to provide answers to the burning questions about the consumer credit market.
CreditRegistry's pioneering and world-leading consumer identification services incorporate both facial and fingerprint technologies, which protect subscribers and potential borrowers from identity theft fraud.
Commenting further, Mr. Ayedun said: "At CreditRegistry, our focus is to bring great value to Nigerian banks, customers and retailers using modern technologies. We possess the most secure, cost-effective and innovative technologies to help Nigerian creditors to expand credit opportunities to consumers without worrying about revenue losses from consumer fraud".
CreditRegistry was incorporated in Nigeria in January 2003. For three months beginning in August 2003, CreditRegistry conducted comprehensive technical evaluations of its services with major Nigerian banks in partnership with the Risk Managers Association of Nigeria (RIMAN) - the foremost and largest association of risk managers in Nigeria.
CreditRegistry began operations in December 2003. With over one million items of borrower information and close to 20 subscribers, the company has, over the years, developed innovative ways of developing unique products and services for the Nigerian market.
Source ( Peter Egwuatu Lagos, AllAfrica.com)